Step 1: Tick Off The Checklist
Before you can get divorced, you need to be separated for one year. Even if you have been living under the same roof, you can still be separated so the time limit will start as soon as both parties agree that separation has occurred. In order to prepare your application, you need to have a copy of your marriage certificate if you do not have this, you will need to order a new one from the Births, Deaths and Marriage office.
If you have children under 18, you will need to have made some sort of arrangement for their care, even if it is only casual or temporary.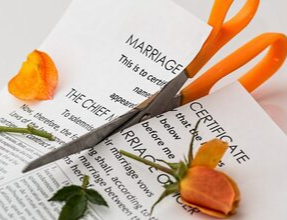 Step 2: Speak With Your Former Spouse
If your former spouse agrees to a divorce, the process is much easier and you are able to lodge a joint application for divorce. If they do not agree, that is fine, you will just need to lodge a sole application. If you are lodging a sole application, you will need to serve the other party with the application after you have filed it. If you do not know where they live, you need to make attempts to find them. If you cannot find them, you can make an Application for Substituted Service and request that the court dispenses with or accepts substituted service.
Step 3: Prepare The Paperwork
Prepare the application form from the Commonwealth Courts website here (you need to sign up for an account to do this). Follow the steps and fill out the paperwork. You then need to file it with the court and serve the documents on your former spouse (if you are not filing a joint application). You will be given a court date for when your divorce hearing is. There are some circumstances when you do not need to appear in court (such as with a joint application and if there are no children under 18) so the court will just process your divorce without you needing to attend. Sometimes you do need to be there though, so make sure you check beforehand.
Step 4: Sort Out Everything Else
Once the court finalises the divorce, you will received the divorce decree and you are considered divorced from that date.
After you are divorced, there is a strict 1 year time limit to make any applications for property settlement through the court. You need to make sure that you have finalised your property settlement either before you get divorce or within 1 year after your divorce. Make sure that you update you will, power of attorneys and beneficiaries to any life insurances policies. If there are children under 18, you should consider making arrangements for their care.
We are Family Court solicitors who are experienced in providing divorce and separation legal advice in parenting and financial disputes. We have many years experience in court advocacy and dealing with matters involving complicated parenting and property disputes.
Contact us for more information or to book a free legal advice session to find out your options.
This information does not constitute legal advice. You should consult with a lawyer to obtain independent legal advice relevant to your situation.